Just 20 minutes of Yoga...
Posted on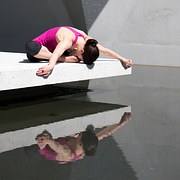 'Just 20 minutes of yoga followed by breathing and meditation significantly improved concentration and memory' according to the Journal of Physical Activity and Health. Also: 'The Harvard Mental Health Newsletter suggests that yoga can be an excellent way to deal with depression, anxiety or stress.' Finally: 'In an Oxford University study on prisoners, yoga was found to help inmates dampen down impulsive behaviour, making them more likely to think before acting.'
Just some of the benefits of yoga according to a wonderful 3 page article in April's issue of The Simple Things Magasine:' Centuries Old but constantly changing - That's yoga for you.' Also has great description of what yoga is and where it comes from and great tips on Finding The Right Yoga Practice:
1 Keep it simple To begin with try Hatha Yoga www.bwy.org.uk British Wheel of Yoga
2 Be patient. Try a few teachers to find the right one for you.
3 Find a good teacher who will work with any of your injuries or limitations
4 Find the right size class, small is best.
Also stating that a class should include asana (poses), pranayama (breathing practice), relaxation and/or meditation.